eBook Analytics you will love
We are delighted to announce that Vearsa will continue to provide the great service that you're used to at App Annie starting July 30th, 2015.
Vearsa will report monthly sales for Amazon US, UK, Germany, Japan, Australia and all Apple territories. As an added bonus you will also receive daily sales reports from the five Amazon geographies for thirty days, absolutely free.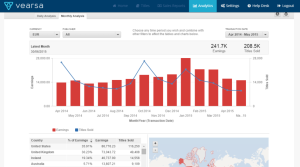 Your sales reports will be automatically consolidated and uploaded onto Vearsa's Analytics dashboards, allowing you to drill down into your performance by retailer, by title, by country and category to make the decisions that help drive your eBook sales
How do I get started?
Just fill out the form on this page to create your free Vearsa Analytics account.
Details provided will be used to create a Vearsa account and on first login, you will be asked for retailer credentials. Your reports will then be live 24 hours after signup.
Did you know Vearsa also supply over 1,000 sales channels and 65,000 libraries? Contact us at info@vearsa.com for more information.
Make sure to join our awesome community of book lovers on Twitter and LinkedIn.